Hello, October! The weather is starting to turn and cozy season is almost upon us. It might be time to start thinking about sprucing up your interior to create the perfect space to escape the rain. Van Isle Paint in Victoria, BC, is now booking interior painting projects for the Fall & Winter. If you need some inspiration for decorating your home, consider painting and decorating with the colour blue, the colour of the month for October. Continue reading to discover the best ways to use blue paint to create a beautiful interior space.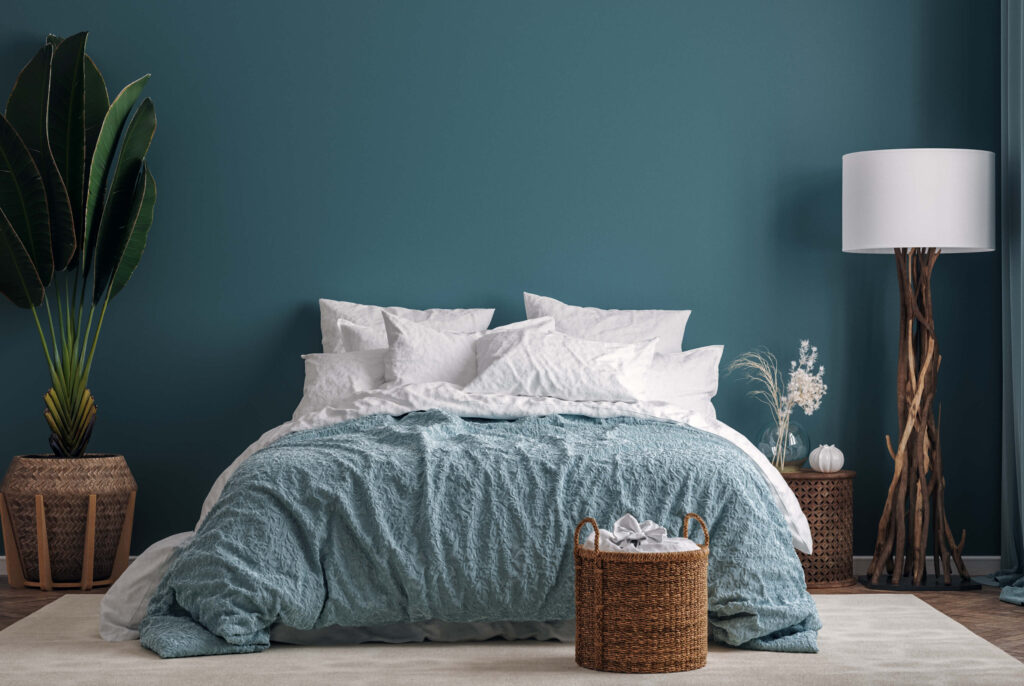 Bedroom Walls
Muted blue walls and dark wood furniture blend to create a harmonious backdrop for a primary bedroom. Minimal accessories and décor create a relaxing atmosphere that's reminiscent of a day at the spa. A bold coloured accent in the room adds a splash of contrasting colour to prevent the monochromatic space from looking washed out.
Navy Blue
A rich navy blue is classic wall colour that works well in formal spaces like dining rooms. For a look that's more whimsical than serious, however, try pairing the colour with energetic shades of pastel pink, mint green, or turquoise. Incorporate off-white or ivory hues elsewhere to balance the palette. Navy blue also works wonderfully in a bedroom. The soothing shade helps create a cocoon-like atmosphere that's ideal for sleeping spaces. To keep dark navy walls from looking too somber, lighten the look with white trim or cream-coloured bedding and décor.
Blue and White Walls
If an all-blue living room feels like too much of a commitment, use wall treatments to embrace a two-tone look. Balance your blue walls with white wainscoting, or you could add a pop of blue into a room by painting a feature wall. This way you get the excitement of the blue without it being too overwhelming.
Sincerely,
Van Isle Paint
Victoria, BC, and Beyond
(250) 412-3885