Van Isle Paint's reputation as a high-quality industrial, commercial, government and residential painting company has grown. With it, our coverage area continues to expand throughout Victoria BC, Vancouver Island, and beyond. Our painters are professional, and our work stands the test of time.
Van Isle Paint is a registered, insured, interior and exterior painting company, a member in good standing with WorksafeBC, and a recipient of the government of Canada security screening certificate. Our designated organization screening (DOS) allows Van Isle Paint to apply for and to hold personnel security screenings for employees in relation to our organization's involvement in Government of Canada contracts that contain security requirements up to and including the Protected B level.
Operations Insured: Commercial and Residential Painting
Limit of Liability: $5,000,000.00
Per Occurrence: $5,000,000.00
Aggregate Limit: $5,000,000.00
Very professional company. Thank you Jamie and crew. All tenants are thrilled with the paint job.
Top notch painting company, from my initial meeting with Glen & Hannah ,to the two expert painters Jamie and Chad ,our experience was most positive. The paint estimate was fair , paint quality was very good and the quality of the full house painted , excellent. The company went above and beyond to make sure we were happy with the finished product. Our house looks great and we have had lots of compliments. Highly recommended.
After doing some extensive research in painting companies here in victoria, I came across Van Isle on google with exceptional reviews. Sure enough, I've received outstanding service from both the managers but also the on site painter to ensure I was happy with the final product. I highly recommend Van Isle Paint to anyone wishing to get professional work done on their property. The process from start to finish is seamless and quick and the staff are very accomodating!
I can't speak highly enough of the great service and great work that the Team at Van Isle Paint provides! Hannah and Greg provided great communication all the way through. Their quote was reasonable and they got the project started right when they said they would, despite all the rain at the start of the season. Jamie and Chad were also super friendly and accommodating and did a great job painting our home. Some reno's are still in progress, but we are super happy with the end product.
We are extremely pleased with the work completed by Van Isle Painting. The entire experience including; phone call response time, on site consultation meeting, estimate preparation as well as the actual work on site was professional, responsive, clean and really good work. We will be using them again for sure
The team at Van Isle paint are amazing. They brought in their team and completed the exterior within a day and with a professional job. The weather changed and we had to wait to have the last piece finished, front door. They kept in touch over the winter and were quick to reply to questions. The job is now complete and I'd give 10 starts if I could. Highly recommend!!
Khristina Blajkevitch
2022-03-18
It was a pleasure to work with Van Isle. Their admin staff and painters are very friendly and the communication was great. Van Isle painted five of our AirBnB/short term rental units at Waddington Flats in Downtown Victoria. Each one of our units has a different theme, and there were lots of paint colours and unconventional requests we had. I appreciated the Van Isle team's willingness to be creative with me on this project! The admin team worked with me on my specific timelines, and the painting team showed up on schedule and on-time. I will definitely give Van Isle a call on my next project in the Victoria area!
Chantal O'Brien
2022-03-09
We have hired Van Isle Paint a few times now, both for work and personally, and every project they have worked on has turned out fantastic. Glen, Jamie and the crew are very professional, friendly, courteous and get the job done with immaculate detail. And, they clean up after each day of work so that we're not tripping over their tools. We are now getting our kitchen painted and I can't wait to see the results! I highly recommend them.
Had a very amazing experience with Van Isle Paint! They were extremely friendly to talk to and had the work done faster than expected. Overlly pleased with their work and will return to them for our next project!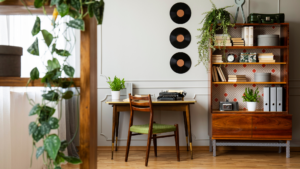 Blog
The Mid Century Modern style has become very popular in recent years. If you like clean lines, hairpin legged furniture, and bold colours, then you'll
Read More »
Blog
The colour red can make such a bold statement, making it a little tricky to pull off. However, it's definitely not impossible! Depending on how
Read More »
Blog
Even if you're dealing with a tiny space, there are some paint tricks for small rooms that can help you make the most of what
Read More »