With so many different interior design styles, it can be difficult to select one that complements your home and suits your personality. On top of that, how do you select a paint colour to match your décor and design? Let's discuss some of Victoria, BC's, most popular interior design styles.
Let the pros at Van Isle Paint in Victoria, BC, Victoria's best painting company, offer some helpful advice on how to select your next interior style!
What's Your Style?
From tried-and-true looks, more daring modern aesthetics, or something in between, interior design can take numerous shapes. It's also possible that you already have a look in mind and just don't know what it's called! The look should complement the space and accomplish the style that works best for you!
Here to help are a few different interior design styles you may want to consider …
Traditional
This may be one of the most recognizable styles because it's been around for so long. Drawing on inspiration from 18th– and 19th-century England and France, this style is regal, reserved, and ornate.

Traditional style often features:
Rich textiles such as velvet, linens, and silk.
Furniture made of dark wood, with ornate scrolling or woodwork.
Floral, stripes, or plaid fabrics.
Crystal or Victorian-style chandeliers and lighting fixtures.
Neutral or subdued colour palette.
If this sounds like your style, try a sky blue on the walls, or a neutral beige. Pair this with a classical patterned couch with silky smooth throw pillows. At Van Isle Paint in Victoria, BC, we offer any additional guidance needed to make your home one that you love.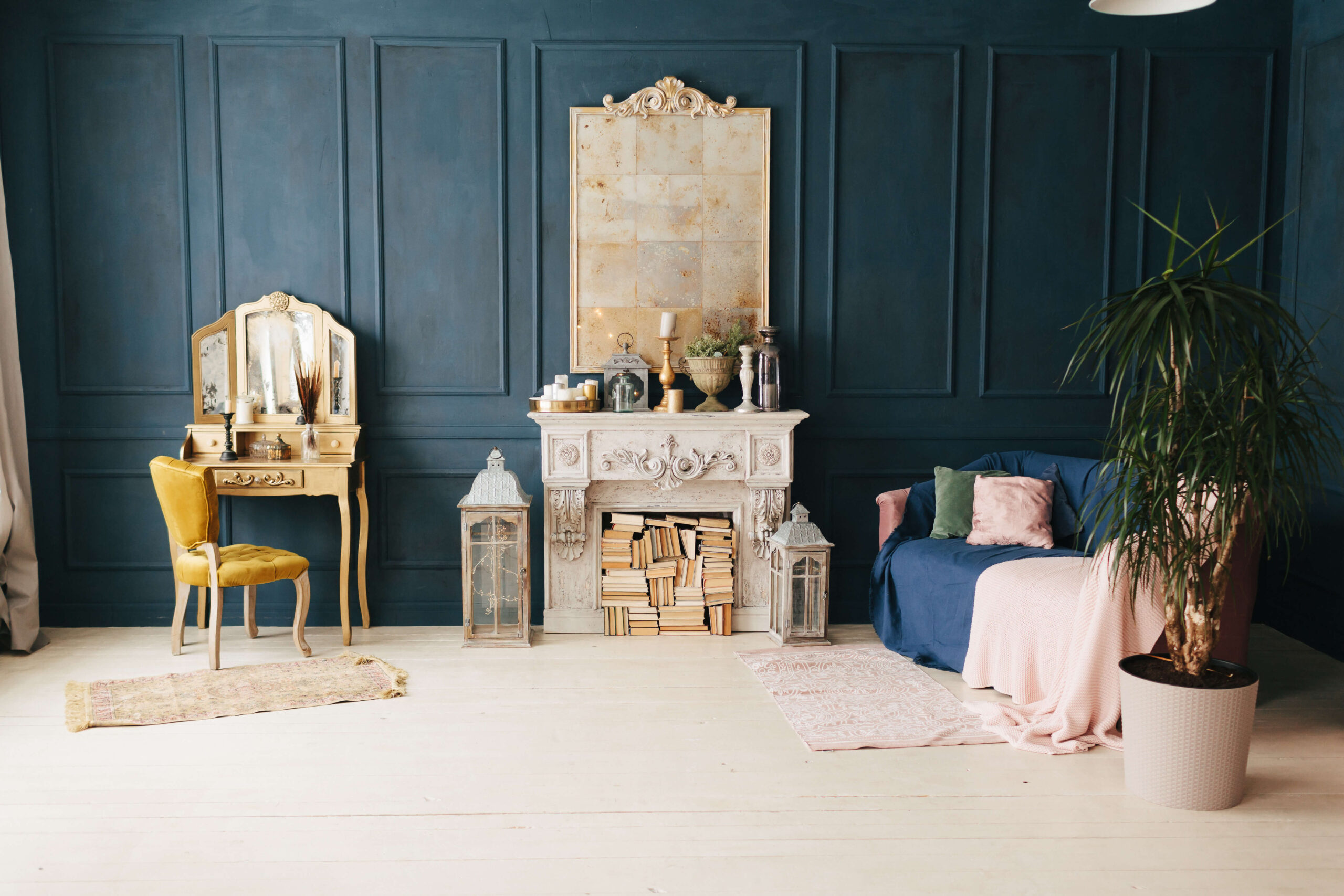 Modern
Shifting to the opposite side of the spectrum, modern is a blend of several styles and takes influences from Scandinavian and mid-century modern. There is a particular emphasis on clean lines and minimal clutter.
Some common elements of modern design:
Sleek surfaces and elements, such as metal and glass.
Open space with neutral tones and soft paint colours.
Limited décor for an uncluttered look.
Accented with bold-statement art or furniture.
Clean and simple lighting or fixtures.
If the modern look is what best suits your home and personality, here's a few things to try. Start with grey painted on the walls, and a leather brown couch in the living room. Stainless-steel appliances in the kitchen, and industrial metal bar stools at the kitchen island.
Scandanavian
Ever-growing in popularity, the Scandinavian style relies on a sense of simplicity and functionality. Some varieties of this style also focus on using sustainable materials and green home design. A popular interior design style as well as lifestyle in Victoria, BC. Offering up a cozy and inviting vibe using light wood colours and accented textures. There's a reason it's become so popular.
Here are a few key elements:
Organic/sustainable materials such as light wood furniture or floors.
Large mirrors and natural light.
Textures, rugs, and throws to add dimension.
Hints of colour through art or accent rugs.
All-white colour scheme with grey undertones.
If you're in love with this minimalistic and simple interior design style, it's easy to accomplish at home. Start with white walls, and incorporate some leafy potted plants, and light wood featured furniture.
Modern Farmhouse
A tasteful blend of rustic nostalgia and modern sleekness. The modern farmhouse style is a merging of old and new to create a welcoming space.
Relying on traditional accents placed in a contemporary setting, here are some core components:
Shiplap, wood beams, and barn doors.
Open-concept layouts.
Contrasting metal elements and fixtures.
Simple or sleek pendant lighting.
Neutral toned paint colours with pops of nature-inspired colours.
This modern farmhouse look has been trending in Victoria, BC, for a while now, and it is not going out of style. Accomplish this look with neutral painted walls and a light accent rug. Even try installing some barn doors as a feature, and include lots of brown wooden furniture.
For more information on interior design, paint colours, or paint application, we're here to help at Van Isle Paint. Give us a call for any painting related questions, both for interior paint and exterior paint.
Sincerely,
Van Isle Paint
Victoria, BC, and Beyond